Disclaimer: The narrative will only state the actual things I did, and results may still vary. Visa requirements differ as per Japan Embassy's requirements. I suggest that you visit your travel agent or the Japan Embassy in the Philippines website for more details, and feel free to click the blue links on this post. :)
Here are actually the visa types posted on the Japan Embassy website:
To download the application form, click this link:
After much research, the best bet to get a visa for me was to go to Reli Tours & Travel Agency at SM Megamall. When I made my inquiries via phone, all the staff were very accommodating and answered all my queries and I got everything covered. Good business indeed! By that time, I had already prepared some of the documents required. D also mentioned that some of his friends with fiancées and spouses would go there for services. Even Raunche, one of my friends, also mentioned Reli Tours to me. After all, SM Megamall's only a stone's throw away, or maybe a few meters would be a better way to describe it.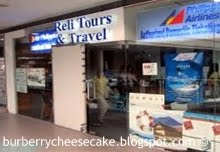 Reli Tours & Travel, 5th floor, SM Megamall (Near bridge)
So D sent out our required documents via FedEx so that I can start my application at Reli Tours.
There was one slight problem though -- he was not able to send a notarized photocopy of his DOD ID. He said that it is NEVER allowed to have their Mil ID photocopied as per
Federal Law
. That really made me quite nervous because the guy assisting me said that it was indeed a needed requirement for me to obtain the visa. He even added that I was the first and only one who said such things. I instead handed the agent a printed copy of the narrative from the
US army website
that prohibits those in the military to have their IDs photocopied.
I wouldn't want my man be in trouble just because of some ID! Of course, the agent was actually surprised, but then went ahead and gathered all my documents together. I used D's US passport and CA Driver's license as the substitute IDs. I mean, they already have the Statement of Service (dry seal included), so it should suffice as evidence that he's indeed an active duty member.
I even added a copy of his current orders, just so that they'll see that he was really based in Okinawa, even if I have already given the Statement of Service and Certificate of Residence. The embassy encourages to affix other documents that would strengthen your proof as to why you deserve to be granted a visa.
Although this type of visa is supposed to be gratis (meaning free) for Philippine passport holders, the travel agency fee for this type was PHP2000, whether the visa would be granted or not. The good thing about this is that they'll take care of everything else, and you wouldn't have to personally go to the embassy for an interview. I also surrendered my passport, along with the prayers in the hope that my visa would get approved. I gave also my cell phone number in order to receive updates from that agent. He said that it may take a week or so for the results.
Turns out, I shouldn't have been worried after all! In 5 days, I received a text from them stating that I can claim my Japan Visa straight from Reli Tours. In just five days, I became Japan-ready!
Lesson here: Completing documents is key, and additional related documents won't hurt
Next stop, Japan!